About NJ Choral Consortium
Incorporated in 2010, New Jersey Choral Consortium is a 501(c)(3) nonprofit organization run by volunteers. More than 45 choruses from all over New Jersey are NJ Choral Consortium members. We welcome new members from choral groups statewide, as well as related organizations and interested individuals who are not in a member chorus. NJ Choral Consortium was honored to receive the Outstanding Arts Advocate Award of 2015 from Morris Arts for our work in sharing resources and encouraging collaboration among choruses.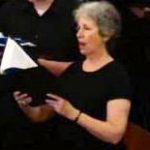 Susan Metz, President, has been singing alto with Monmouth Civic Chorus since 1984, and with Princeton Pro Musica since 2016. She's retired after 22 years with the NJ Department of Human Services and 15 years as Marketing Manager on the Monmouth Civic Chorus board. She lives in Freehold with her baritone husband, Jerry. Her friends call her Sue, and she would like all choral music lovers to be her friends. president@njchoralconsortium.org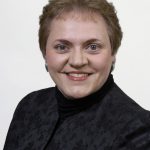 Marina Alexander, Vice President
Marina Alexander, Vice President, conducts The Arcadian Chorale, which she founded in 1993, plus the Richmond Choral Society on Staten Island, NY since 1995. She teaches Conducting and Music History at the College of Staten Island-CUNY, and has been a long-term board member and past President of NJCC. Marina is also a composer, and has led a wide variety of workshops on choral repertory, ensemble techniques, and organizational best practices. She lives in Matawan.  www.marinaalexander.com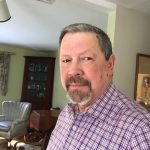 Jeremy Lees, Treasurer, holds a Masters of Music from the University of Colorado, Boulder. He also holds an M. Div. and MSW, and is currently providing psychotherapy to clients. He has presented numerous solo vocal recitals, performed operatic roles, and been a featured soloist with several New Jersey choruses, including Monmouth Civic Chorus, Shrewsbury Chorale, Concordia Chorale, and Ocean County College Community Choir. He sings with The New Jersey Chamber Singers and lives in Colts Neck. treasurer@njchoralconsortium.org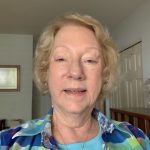 Ruth Anderman, Secretary, has been singing in choirs since she was a little girl. She developed the JoySingers, an ensemble that began in church and continued performing for 13 years. A graduate of Westminster Choir College of Rider University, Ruth taught K-12 music for several years. She joined Cantabile Chamber Chorale in 1994, serving as Secretary and President, and is currently the Artistic Chair. Ruth lives in Somerset and is the Church Administrator for Middlebush Reformed Church. 
Barbara Sanderman, Member At Large
Barbara Sanderman, Member At Large, retired from a 26-year career in church music in the Diocese of Metuchen. She lives in Far Hills and is the director of Caritas Chamber Chorale. Founded in 2005, the Chorale is dedicated to serving the poorest of the poor through the art of sacred music and performs for the benefit of the Adorno Fathers' Africa Mission.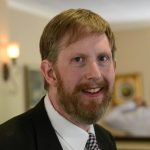 Eric Schwarz, Member At Large
Eric Schwarz, Member at Large, has sung with the Orpheus Club Men's Chorus since 2013, and with Rise Up Chorus since it began in 2017. He directed a version of the musical "You're a Good Man, Charlie Brown" in 2017. He is a librarian by trade and lives in South Plainfield.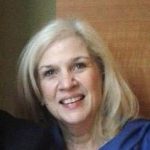 Elizabeth Verderosa, Member At Large
Elizabeth Verderosa, Member At Large, completed her BFA in Music at Rutgers University, and taught in the Woodbridge Township School District for 25 years as a classroom teacher and general music teacher. She lives in Metuchen and her passion is choral music. She has sung with Cantabile Chamber Chorale since 1994, and currently serves as President. She also sings with Aura Polyphonica, the Central Jersey Renaissance Collegium.
Please help us support choral music in New Jersey!
If you prefer to mail a check, please print and enclose our membership/donation form.
We are grateful for your donation in any amount. Donations are tax-deductible to the extent allowed by law. Dues are not considered donations. 
New Jersey Choral Consortium is a 501(c)(3) not-for-profit organization, Federal Employer ID # 272106353. Records of our past tax returns filed with the Internal Revenue Service may be viewed online.
New Jersey Choral Consortium is exempt from registering with the New Jersey Office of the Attorney General, Division of Consumer Affairs, Charities Registration Section, because we receive less than $10,000 in annual contributions.